AV Staff
John Ferguson, Founder and Executive Director
John Ferguson is the Founder and Executive Director of the American Voices. In 1993, John created American Voices to fulfill the need for quality, constructive American cultural programming in the newly independent nations of Central and Eastern Europe. John is a classically-trained pianist, and his performing activities have included thousands of concerts, broadcasts and masterclasses throughout Europe, North and South America, Asia, Africa and the Middle East. John completed his musical studies at the University of Texas at Austin, where he received his Master's degree. Additional musical studies took him to Paris, where he was a student of Nadia Boulanger, and to Geneva where he studied with Maroussia le Marc'hadour. His piano teachers have included Danielle Martin, Eugene List and Edith Lateiner-Grosz. In Europe, John has appeared in prestigious venues such as Amsterdam's Concertgebouw, Théatre de la Ville and Radio France in Paris, and Bonn's Kunst- und Austellungshalle. Meanwhile, his musical recordings include 'Rhapsody in Blue' with the Junge Philharmonie Thüringen and 'Saxofolies' for EPM.
Spencer Dunlap, Director of Operations
Spencer Dunlap joined the American Voices team in 2012 and was recently appointed Director of Operations. An accomplished trumpet player, Spencer began teaching trumpet in 2008 and currently maintains a private teaching studio in the Saint Louis metro area. He also teaches beginning through advanced students and chamber ensembles at the Community Music School of Webster University and previously served as adjunct Instructor of World Music at Southwestern Illinois College. Spencer performs with Downtime Productions, the Rosewood Ensemble, Quad Cities Symphony Orchestra, the Clarion Brass Quintet, and the Saint Louis Philharmonic. Previously, the Civic Orchestra of Chicago named Spencer an associate member for the 2011-2012 season. Spencer holds a Master of Music degree from Indiana University where he was awarded an Artistic Excellence Fellowship as a student of John Rommel. Spencer also received a Bachelors of Music degree from the University of Iowa where his teachers included David Greenhoe and Amy Schendel.
Donna Grizzle, Director of Finance
Donna attended Maryville University and has a vast background in all phases of accounting. Her prior titles included Controller, Internal Auditor, Credit Collections Manager, and a Consultant for Robert Half, Inc. Being employed by a wide variety of enterprises, such as non-for profits, manufacturing, the banking industry and a CPA firm, Donna brings to American Voices the highest level of accountability, maintaining GAAP standards for all accounting phases, including General Ledger, Financial Statements, budgets and payroll.
Jacob Volkmar, Director of Communications
Jacob Volkmar's passion for travel and cultural exchange was ignited when he participated in Semester at Sea, a global shipboard education program, spending four months circumnavigating the globe and exploring 11 different ports as an undergrad. This experience, coupled with his inherent wanderlust and intrinsic organizational skills, made him the perfect fit as director of communications for American Voices where he's explored the world with musicians performing public diplomacy from East Asia to the Marshall Islands. Volkmar holds a Masters of Public Administration and Policy Analysis and a Bachelors of Science in International Business and Marketing from Southern Illinois University. Prior to American Voices, he worked in the non-profit arts and government sectors.
---
Mickey Davis, Program Manager
Mickey Davis, Program Manager, comes to American Voices from helping found and manage the Des Moines Social Club, an arts and entrepreneurship venue in Des Moines, Iowa. As well, he was one of the founders of the now-inaugural Des Moines Jazz Festival. Graduating with a degree in music from Macalester College in St. Paul, Minnesota, Davis also performs and produces music, and he brings his experience as a touring musician and his love for travel to his role at American Voices.
---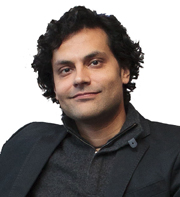 Ravi Hutheesing, Director of Youth Engagement and Cultural Entrepreneurship
Ravi Hutheesing is a keynote speaker who builds his brand globally as a cultural-entrepreneur. His philosophies and strategies have helped businesses, educators, and over a million people throughout the Americas, Europe, and Asia bridge generational and cultural divides. Additionally, the US Department of State engages Ravi as a cultural diplomat to create programs worldwide that foster cultural exchange and mutual understanding.
His worldwide visibility skyrocketed as the guitarist for triple Grammy nominee, Hanson. Their massive fan base of the earliest millennials made them the top-selling band in the world around the turn of the millennium. Ravi has performed on stages that include the White House, Madison Square Garden, Tonight Show, Good Morning America, and Saturday Night Live; authored Dancin' with Hanson (Simon & Schuster) and over a hundred articles for major magazines; and released interactive-video music courses, CDs of original music, and multiple singles. He also often serves as "artist-in-residence" at the renowned Berklee College of Music in Boston MA, focusing on artist-entrepreneurship.
As a cultural diplomat, Ravi first went to Russia in 2015 on behalf of the US Department of State and delivered a series of lectures on artist-entrepreneurship and youth leadership. In 2016, he partnered with American Voices in Indonesia—the world's largest Muslim population—and created a songwriting camp for millennials from ASEAN nations, showcasing how arts and entrepreneurship can bridge the most severe cultural and religious divides. These programs continue to expand globally in 2017.